Minnetonka Attic Insulation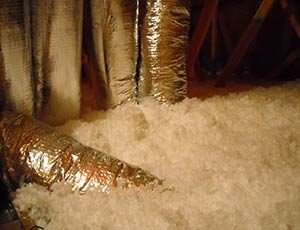 Is your attic insulation where it needs to be to properly insulate your home? You could be losing a great deal of money every month to your heating and cooling bills, simply because you have inadequate attic insulation. Minnetonka area homeowners like you have trusted Lewis Insulation for all of their insulation needs for decades. Not only are we experts in attic insulation, but we are also trustworthy and honest.
When you call us, we can talk about these attic insulation options with you in order to help you decide which one is the best option for your needs. We offer the very best in attic insulation, including:
Fiberglass – the most well-known type of insulation that can help make your home more energy efficient, reduce the cost of your heating and cooling bills and make your family or the house's occupants more comfortable.
Cellulose – cellulose attic insulation will not settle, it is non-corrosive and will not rot or decay. It offers all of the same benefits of fiberglass attic insulation too.
Closed cell spray foam – has a very high R-value, helps deter moisture and other water problems and also offers the same advantages of fiberglass and cellulose.
Each come with their own unique set of benefits but all of these insulation choices are cost-effective and a great way to keep your house cool in the summer and warm in the winter. We can recommend what kind of insulation you should have installed while also keeping your budget in mind.
Proper and adequate attic insulation can offer a number of wonderful benefits. Not only could you see some savings on your heating and cooling bills, but you could also help lower your home's carbon footprint as well. Buildings emit greenhouse gas emissions, and the best way to reduce these emissions is through proper insulation.
Call us today so we can put you on our schedule and so you can get all of your questions about attic insulation answered!
Attic Insulation from Lewis Insulation
Attic insulation can help with a variety of issues from noise pollution to moisture problems. Make sure you get the most out of your insulation and reap all of the benefits of attic insulation by only trusting the professionals.
For over 35 years, homeowners have relied on the professionals at Lewis Insulation to provide the best and most up to date insulation materials for their homes. We know the best and most efficient ways to install the insulation, and we take care of installing this insulation safely and properly on every single job.
Contact us about Attic Insulation
Would you like to learn more about attic insulation in Minnetonka and the surrounding areas? Call us at Lewis Insulation at 763-477-2612, or you can contact us to set up a Free Estimate.